About Plant Talk, the NYBG Blog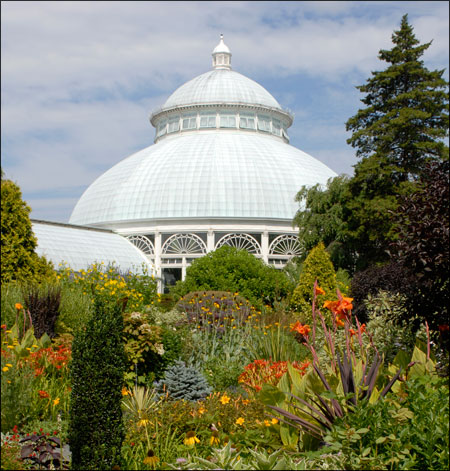 About Plant Talk
Plant Talk is the official blog of The New York Botanical Garden. It presents Garden-related topics through the voices of the people who work, volunteer, visit, or study here. The blog offers a behind-the-scenes look at what goes on at the Garden. Submissions from visitors are welcomed! Please email blog AT nybg DOT org if you have an idea you think we would like to hear about. Learn more here.
About The New York Botanical Garden
The New York Botanical Garden is a museum of plants, an educational institution, and a scientific research organization. Founded in 1891 and now a National Historic Landmark, it is one of the greatest botanical gardens in the world and the largest in any city in the United States, distinguished by the beauty of its diverse landscape and extensive collections and gardens, as well as by the scope and excellence of its programs in horticulture, education, and science. Learn more about the Garden's history here.
The Botanical Garden's curated living collections contain more than 1 million plants; the Garden's Adult Education program is the largest and most diverse of any botanical garden in the world; its Children's Education program has been a pioneer in innovative, informal science discovery facilities and activities; and its scientific research on plants and fungi is unmatched in scope, depth, and authority.
The Garden's resources are as exceptional as its programs. They include the most important botanical and horticultural library in the world and an herbarium that is the fourth largest in the world and the largest in the Western Hemisphere. The greenhouses are the most sophisticated behind-the-scenes facility at any botanical garden in the United States, and the Enid A. Haupt Conservatory–a New York City Landmark–is the largest Victorian-era glasshouse in America.
The Garden also offers a sweeping 250-acre landscape, 50 curated display gardens, an expansive 50-acre Native Forest, and a wealth of programs, exhibitions, and activities for visitors to enjoy. The grounds display masterpieces, some dating to the 1840s, by many of the nation's most accomplished architects and designers, both past and contemporary. The Botanical Garden's innovative programs, unparalleled resources, and talented staff are rivaled by few and exceeded by none.